My grant proposal was for funds to buy literacy games and math manipulatives for my classroom. Since I am a second year teacher I had not yet accumulated such games and activities and I knew my students would benefit from them.
Below: One of my boys is using the new pull apart letter stamps that we got. These stamps are great because they can pull them apart and clip them together to make any word. For this activity I wanted him to read the word, stamp it, trace it, and then write it. My students love these stamps because they can build all kinds of words and it is very open-ended.
Below is one of my girls playing with the tactile alphabet match up game. She is expected to match the letter with the picture that starts with that letter. For instance the capital and lowercase A would be matched to the picture of an apple.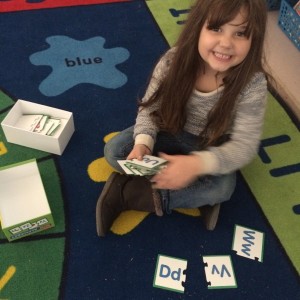 Below is a picture of the students using the colorful bugs to practice counting and sorting